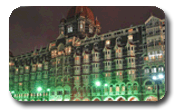 Exotic Hotels In India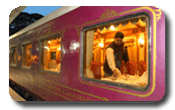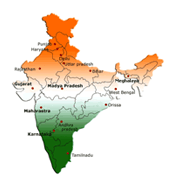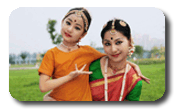 Gallery
Pushkar Fair Special
If you are an animal lover, then this is the tour of your kind. The highlight of this tour is the Pushkar Camel fair where the traders from all over Rajasthan come with their animals to sell here. It is not only the business which this fair has to offer but it contains many exciting and mind blowing skills of the animals which are displayed before they are being sold to its potential buyers.
Dates of Pushkar Fair :
25 Oct till 02 Nov'09
Day 1:
Arrive Delhi
You will be met by our representative on arrival and escorted to the hotel.

Overnight at hotel.
Day 02:
Delhi Sightseeing
A city of great character, of contrasts and convolutions - this is Delhi, the capital city of India. A city with antiquity dating back over 2,000 years, it is also a modern metropolis with fast cars and neon lit shopping malls. So varied are the shades of Delhi's different faces, it is difficult to grasp it in a short span of time. The Old City is the site where the Mughals and the Turkish rulers constructed several architectural marvels like the Jama Masjid (India's largest mosque) and Delhi Fort (Red Fort), Qutab Minar and Humayun's Tomb (Two World Heritage Sites) also drive past monuments like the India Gate, Jantar Mantar, The Lotus Temple, Laxminarayan Temple and Raj Ghat .

Overnight at Hotel in Delhi.
Day 03:
Delhi /Agra
Full day city tour of Agra visit Taj Mahal and Agra fort.
Taj Mahal-An ideal epitome of love and dedication, the Taj Mahal was built by the fifth Mughal Emperor, Shahjahan in 1630 after the death of his beloved Mumtaz Mahal. It is quite unique as it is the only shrine in the world that has created a hallmark in the whole world. This marble structure and an excellent example of 'Pietra Dura' work; Taj Mahal leaves the tourists coming to Agra spellbound.
Agra Fort - On the shores of River Yamuna, to the northwest of the Taj Mahal, Emperor Akbar started a majestic fort, which gained Jehangir and Shah Jahan as its future benefactors who added rose-red sandstone and marble buildings to it respectively. Within 2.5- km-long and 20 feet high fortified walls, the premises of the fort houses many visionary palaces, such as the Jahangir Palace and the Khas Mahal, audience halls, such as the Diwan-i-Khas; and two very beautiful mosques.

Idmat- ud- daula- On the North of Fort , The Tomb of Mirza Gayas Beg: The Minister of Emperor Jahangir. It is also called "Baby Taj" by the Locals.

Overnight at your hotel.
Day 04:
Agra - Sikri - Jaipur
After breakfast visit to Jaipur, on the way visit Fatehpur Sikri - known as a dead city. Fatehpur Sikri is located approximately 40 km. from Agra. It was built by Emperor Akbar and was abandoned within 12 years due to lack of water. We will see the most beautiful buildings on the way to the city of Jaipur, including the mosque (Jama Masjid), tomb of Salim Cisti (Salim Chisti), Panch Mahal (Panch Mahal).

Then continue to Jaipur.
Upon arrival, checking in at the hotel.

Overnight at hotel.
Day 05:
Jaipur Sightseeing
Morning after early breakfast, we proceed for Excursion to Amer fort. Amer Fort- the ancient capital of the State until 1728, visit the Jai Mandir or the Hall of Victory, is noted for its inlaid panels and glittering mirror ceiling. Opposite the Jai Mandir is the Sukh Niwas, or Hall of pleasure, with an ivory-inlaid sandalwood door. Also see the glittering with mirrors, Jai Mahal and Temple of Kali. Ascend on elephant's back, the hill on which the Fort is situated. (Failing Jeep will be provided)
Later drive past Hawa Mahal, City palace and markets of Jaipur. Jaipur is shopper's paradise famous for Bandhej fabric and Jems & Jewellery iteams.

Overnight at your hotel.
Day 06:
Jaipur - Pushkar 140 Km (03 hours drive approximately)
After breakfast at hotel, drive to Pushkar. Also known as "the Rose Garden of Rajasthan" the species of Roses found here are renowned for its perfume and exported world over.

Pushkar Fair is the world's largest camel fair held in the holy town of Pushkar in Rajasthan. A spotlight of one's holiday in India, the Camel festival hosts around 50,000 camels in this magnificent event. From a mere 14,000 to a massive 200,000 people !! This is how the population of Pushkar swells during the Pushkar Camel Fair.

The Fair attracts villagers from far and near to gather together and enjoys a welcome break from their harsh life of the arid desert. Village women dress in their best colorful clothes and jewelry for this five-day Camel festival. It is also an occasion for Hindu pilgrims to converge for a holy dip in the sacred Pushkar Lake to "wash away the sins of a lifetime" and pay obeisance at the only Brahma temple in the world. The Fair n festival hosts over 50,000 camles which are raced, decorated, shaved and displayed for their skills before they are sold off..

Overnight stay at deluxe tented accommodation.
Day 07:
Pushkar
Full day to indulge in the activities and enjoy the cattle fair.

Overnight stay at deluxe tented accommodation.

**an additional night can be added here as per the interest of the tourists.
Day 08:
Pushkar - Ajmer (20 kms ) Ajmer - Delhi by train
After a leisurely breakfast at hotel, continue towards the adjacent holy city of Ajmer. This small town is of equal importance to pilgrims of Hindu, Muslim and many other faiths for the Dargah Sharif - tomb of Sufi saint Khwaja Moinuddin Chisti. Adhai-din-ka-jhoupra (cottage built in 2 ½ days) is another remarkable structure and a masterpiece of Indo-Islamic architecture located on the outskirts of the city, just beyond the Dargah. It was originally a Sanskrit college, built within a temple. The distinct pillars-and arched "Screen" with its ruined minarets make it a splendid architectural masterpiece.

Later in-time transfer to Ajmer railway station to board train Shatabdi Exp to Delhi -
Leave Ajmer : 1550 hrs
Arrive Delhi : 2240 hrs
(this train does not operate on Wednesdays)

On arrival in Delhi, you will be escorted by our representative to international airport to connect your flight for onward journey.
Day 09:
Leave Delhi.
OUR HERITAGE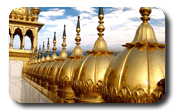 Golden Temple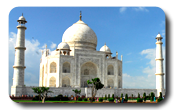 Taj Mahal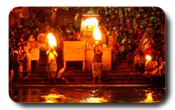 Rishikesh Aarti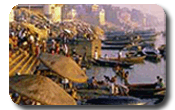 Ghats - Varanasi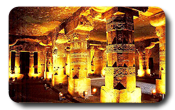 Ajanta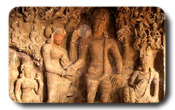 Ellora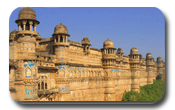 Gwalior Fort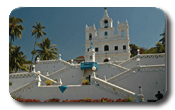 Goa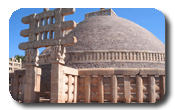 Sanchi Stupa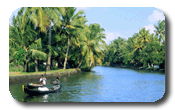 Kerala Backwaters