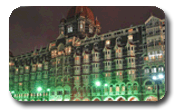 Exotic Hotels In India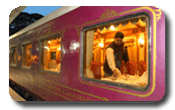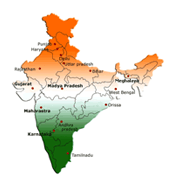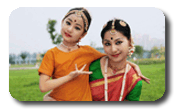 Gallery
Day 1:
Delhi
On arrival at Delhi International airport our representative will meet and assist you to be transferred to the hotel. (Rooms will be booked from previous night for immediate occupancy)
Day 2:
Delhi
City of great character, of contrasts and convolutions - this is Delhi, the capital city of India. A city with antiquity dating back over 2,000 years, it is also a modern metropolis with fast cars and neon lit shopping malls. So varied are the shades of Delhi's different faces.
Delhi's culture has been influenced by its lengthy history and historic association as the capital of India. The Old City is the site where the Mughals and the Turkic rulers constructed several architectural marvels like the Jama Masjid (India's largest mosque), Delhi Fort (Red Fort), Qutab Minar and Humayun's Tomb (Two World Heritage Sites). While New Delhi houses several government buildings and official residences reminiscent of the British colonial architecture like the Rashtrapati Bhavan, Rajpath, the Parliament of India, the India Gate, The Lotus Temple, Laxminarayan Temple and Raj Ghat- associated memorials houses memorials of Mahatma Gandhi.

Overnight at your hotel.


Day 3:
Delhi - Varanasi (By Air)
After Breakfast transfer to Airport to Board flight to Varanasi.
Flight No: 9W724
Departure from Khazuraho: 1330 Hrs
Arrival at Varansi : 1410 Hrs

Often referred to as Benares, Varanasi is the oldest living city in the world. These few lines by Mark Twain say it all: "Benaras is older than history, older than tradition, older even than legend and looks twice as old as all of them put together". Hindus believe that one who is graced to die on the land of Varanasi would attain salvation and freedom from the cycle of birth and re-birth. Abode of Lord Shiva and Parvati, the origins of Varanasi are yet unknown. Ganges in Varanasi is believed to have the power to wash away the sins of mortals.

Overnight at your hotel.
Day 4:
Varanasi - Sarnath -Varanasi
Early in the morning boat ride at River Ganges.
Later site seeing of Sarnath. The Place where Budha gave his first Sermon.
Back to Varanasi for night stay at Hotel.
Day 5:
Varanasi -Bodhgaya
/
Day 6:
Bodhgaya
After Breakfast proceed for Bodhgaya (240 Kms , approx 6 hrs drive).
Stay at Bodhgaya for 2 nights and enjoy siteseeing of Rajgir , the famous Budha Stupa.
For these 2 days see various historical places which are, on various legends connected with the Buddhism, for example, Rajgir. Here the Buddha spent 12 years. Also, he held the first assembly of pupils after he attained nirvana.
Day 07:
Bodhgaya - Patna (en route visit Nalanda)
After a breakfast in hotel it is sent to Patna, on road visit Nalanda, built in 5th century. It was the oldest university which housed more than 5000 students from all over the world.
After the arrival in the city of Patna check in at hotel.

Overnight at hotel.
Day 08:
Patna - Kushinagar (on road we shall visit Vaishali)
After breakfast in hotel proceed for Vaishali - a sacred place for Buddhists. We shall visit the well-known monuments, such as Chaumukhi, etc. Further we shall proceed to Kushinagar.

Overnight at hotel.
Day 09:
Kushinagar-Lumbini
After a breakfast in hotel proceed for excursion to temple Mahanirvana which represents Japaneese and Srilankan Buddhist center. Further proceed to Lumbini- the birthplace of the Buddha.
After arrival check in at hotel.
In the evening we shall visit Lumbini. Here there is well-known Ashoka Stambha, 3rd Century BC,Mayadevi Temple, an old monastery and some new Stupas.

Overnight at hotel.
Day 10:
Lumbini-Shravasti-Balrampur
After breakfast in hotel - crossing in Balrampur (en route visit Shravasti where you will see ruins of ancient city, and also monastery Jetvahan).
Afte arrival check in at hotel.

Overnight at hotel.
Day 11:
Shravasti-Balrampur-Lucknow - Delhi
In the morning proceed to Lucknow. Further by train up to Delhi.
Board Shatabdi Express (departure 15.35 / arrival 22.00)

After the arrival in Delhi check in at hotel.
Day 12:
Depart from Delhi. End of the program
We see off you in the airport.
Next to Special Interest Tours
OUR HERITAGE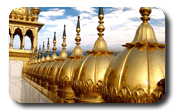 Golden Temple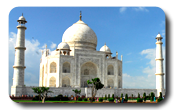 Taj Mahal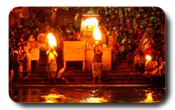 Rishikesh Aarti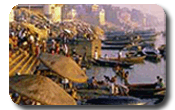 Ghats - Varanasi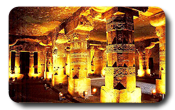 Ajanta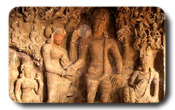 Ellora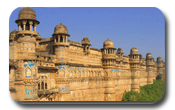 Gwalior Fort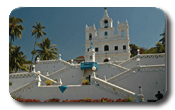 Goa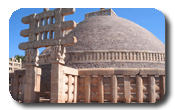 Sanchi Stupa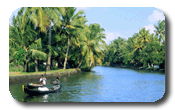 Kerala Backwaters